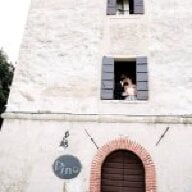 Joined

Nov 15, 2008
Messages

3,309
I''m engaged! I''m so, so happy. My newly-minted fiance (grin) and I got engaged on Valentine''s, which also happens to be the 8th anniversary of when we got together as freshmen in college! The proposal was a complete surprise!
We are currently on a trip to visit my family in Europe. Over V-Day weekend, we took a short skiing trip to a beautiful mountain village in Austria, where we had also spent Christmas 2007 with my folks. I knew that back then, FI fell in love with the place and the hotel we stayed at and really wanted to go again some time soon. Little did I know that he''d been checking the hotel''s website every morning for the past few weeks to see if any good last minute deals opened up, as the normal high season rates are very expensive. Well, he ended up getting a beautiful suite at a great rate and surprised me with the trip as a nice little getaway.
It''s hard to believe in hindsight, but I had absolutely no idea that he was planning a proposal. As I''ve written before on this board, he gave me an April timeline, which I believed. During the days before V-Day he even mentioned that he was very sorry he couldn''t propose "in such a pretty setting" because it was taking him a long time to find the right diamond (I will write more about that when I do my SMTR thread) and get the setting made. I totally bought it. Total decoy -- he is such a trickster!
On Valentine''s/our anniversary, we had an absolutely wonderful day that included some skiing, relaxing in the hotel''s sauna and spa, and a fantastic 5-course dinner. After dinner, FI said he wanted to take a walk and climb a ways up the mountain outside the hotel, like we had done a year ago at Christmas. You can see the town lights from up there and it''s a very pretty spot, right next to the ski slope. So we bundled up and went outside. On the way out, I thought we were getting funny looks from the hotel staff, but I thought that was because they were wondering why the heck we would venture outside in the cold that late at night... I had no idea they were all in on the surprise!
In any case, we climbed up the hill to "our" pretty spot, which, let me tell you, after a 5-course meal and a lot of champagne/wine is tiring! When we arrived I plopped down with my back to FI, saying "I''m tired. I need a break!" All of a sudden behind my back FI starts saying beautiful things about how I went up the hill with him even though I didn''t feel like it, because I knew it would mean a lot to him, and how much he loves me for that, etc., etc. The funny thing is that, since he had me 100% convinced that no proposal was going to happen, I totally did not get what was going on and thought he was mocking me by pretending to propose! Can you imagine? I even said "Stop it, why are you making fun of me, that''s not nice!" He just kept talking, so eventually I turned around and I see him on one knee and it starts to finally dawn on me that this might actually be serious! I think I just started bawling and saying "OMG, I don''t believe you, are you serious, OMG, OMG..." (I think I might have actually punched him (not hard, of course), I was so surprised and shocked!) Anyways... of course I said yes! I could not be happier. It was more meaningful and special than I could have ever imagined. I can''t believe he surprised me like that!
Well, to anyone who''s actually read this far, thanks for bearing with me, you are really nice! Without further ado, here are some pics!
-mscushion