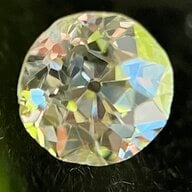 Joined

Dec 16, 2007
Messages

24,381
Because I need the thoughts of my fellow diamond maniacs to help me make a decision!
I am thinking of selling my 1.67ct J VS1. On a whim, about a month ago I contacted some PS vendors to see what I could get for it and was stunned to discover that with diamond prices going up up up, a number of them were willing to buy it from me for a little more than we paid 16 months ago.
And this unfortunately got my wheels turning. We were in a slightly different financial situation when we made the decision to upgrade to this diamond 16 months ago, and recently I have been feeling guilty about so much money tied up in what is essentially luxury and hedomism
I'm all good with a little spoiling oneself, but this felt a bit excessive. It is no chump change to us. Although to ponied up the money over a three year period, receiving it back in a lump sum would be pretty sweet. We will have two kids in daycare in just 7 short months (time flies by, our youngest is already 2 months old)... well I will not bore you with details but the *responsible* side of me is saying we should sell the ring and free up some equity for upcoming expenses. We would never sell for a loss. But to break even? It is utterly and completely tempting.
But geez I don't know how to make the decision!! I keep hoping for a lighting bolt of clarity, but it does not come. Help!!