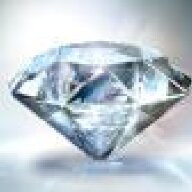 Joined

Dec 1, 2015
Messages

21
Hi guys,
Long-time lurker. I love this community and how much I've learnt over the last 6 months.
I've narrowed my selection down to a nice diamond which looks really good on paper.
I've just received a PDF of images related to Aset, Firescope and H&A and I would love all your amazing opinions before I make the biggest purchase of my life!

(questions below under diamond specs and aset images)
Diamond Specs (HCA Score: 1.3)
=============
Carat 2.35
Shape Round
Cut Ideal
Colour I
Clarity VVS2
L/W ratio 1.00
Depth % 61.9%
Table % 56.0%
Polish Excellent
Symmetry Excellent
Girdle Medium to Slightly Thick
Culet None
Fluorescence None
Measurements 8.52 x 8.49 x 5.26 mm
ASET/Ideal/H&A Imagery: (HCA Score: 1.3)
=============================
https://www.dropbox.com/s/jobwu3zse2kldik/2.35%20I%20VVS2.pdf?dl=0
What I'd love your input on:
1) My biggest concern is brilliance therefore cut, followed by size- my significant other wants a big rock! (don't they all!)
What do you guys think of I? I've seen a couple and they seem to be obviously not as amazing as D or even a G, but they haven't been very "yellow".. Do you guys think I can get away with an I colour 2.35? My budget is 20K USD.
2) How does it look from the PDF of imagery provided? I understand most things like H&A, but I've never read an firescope/ASET from the bottom up, and it looks scary to me.. Would love your expert/professional opinions!
Thanks guys (and gals) I REALLY REALLY appreciate all your input.
Cheers
Charlie.