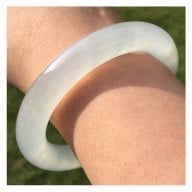 Joined

May 1, 2009
Messages

3,752
Just take it outside to see

@icy_jade

!

Is it a Wriston stone?

You seem to really like blue and have been pursuing a dream blue for a while. If within means there's no harm in splurging on something you've long desired (as long as you're not being ripped off).

I did it with my yellow and have zero regrets.

Speaking of yellows what did you do with yours???
Yes a Wriston stone. He returned it to supplier as he's going to HK for the show. Maybe next week...
小黄 (Xiaohuang which means 'little yellow') is still with the bench. Can't rem if I told him no hurry but anyway yeah no progress on setting
Didn't manage to find any settings for my two beautiful tsavs either