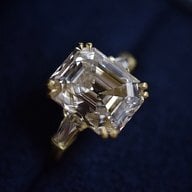 Joined

Jul 12, 2008
Messages

3,617
Re: I wish I knew ____ before buying a home/taking on a mort
megumic|1308675733|2951111 said:

kama_s|1308667457|2950994 said:

We just bought our home a few months ago after renting for years. A few things that were important to us:

- Make sure the house you buy has been well-maintained. Little things go a long way - if the previous owners had ownership pride, you will save a LOT in maintainence costs down the road. Little things like roof, insulation, furnace etc.
- Keep aside at least 10K a year for unexpected (minor and major) house expenses.
- Rule of thumb with mortgage amount: Your mortage should not be higher than THREE times your joint annual salary. So, if you each make 100K a year for a joint annual income of 200K, then your total mortgage should not be higher than 600K.

Kama, I'm curious about the bolded. Why do you say 3 x salary? Would you include bonus (if it's substantial) in that calculation?
To be honest, I wouldn't. My husband's bonus is around the same as my salary (even though I'm almost at 6 figures), but it's not guaranteed. Which is why we didn't include that in our calculation. But what you can do is keep that money aside and either put it in as a bigger downpayment (or your yearly big lump sum - when you can put - I believe - around 10% of your mortgage in without a penalty) or for house related expenses. We also kept aside around 100K just incase we both lose our job simultaneously and we need to money to keep making the monthly mortgage payments - so that's another possibility for your bonus income.