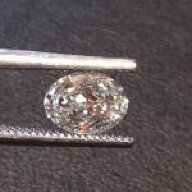 Joined

Jun 9, 2011
Messages

203
...I have come down with LIW-itis...
Hi, I'm new here. My BF and I have been together about 6 months, and yeah I realize that that isn't very long (at all), but it feels like 6 years and our relationship has been pure magic. I am 29, he is 28, we've both been in very serious relationships before (me in a 6 year LTR that ended 3 years ago, him married when he was in his early 20s and divorced 4 years ago, didn't think he'd ever marry again, then he met me...), and neither of us ever thought we'd be so lucky to fall so in love as we are. Since pretty early on (yes, earlier than now...) we've talked about marriage - we both have very professional careers, and I am at the point where I am finishing my residency training and looking for a "real" job for a year from now. This change coming up in my life has brought about a lot of conversations about where we see ourselves in the future, and our hopes and goals line up so perfectly that between that and all the chemistry and fun we have together I almost feel like I'm in a dream. When I look at everything I hoped for in a man, he is exactly all of that and more, and he makes me feel SO cherished every day.
Anyway, about a month ago he mentioned we should probably go ring shopping together so that he knows what I like. Obviously I got very excited. But then he didn't initiate any shopping trips... Then, about 2 weeks ago we were talking about the future and how happy we are, and I said I was so excited to get to spend my life with him. He said all he needed was my ring size. Honestly, I don't know it, and I have big, non-feminie (um, capable and strong...) hands, so I told him if he wants to know it we need to go to a store! He said one of these days coming up when we're both off from work. Well, to be fair, we haven't had any of those days yet, but we have had mornings and evenings where we've both been off. I'm getting kinda antsy though. Every time I ask "what do you want to do today," I want him to say "go look at rings," and whenever he asks me what I want to do, I want to say "go look at rings," but I feel like HE needs to suggest it, since he's the one buying it (and he does have plenty of money saved - I'm not a fancy girl. I am kinda picky in that I want something very simple and sleek and elegant and a little unique (I know, simple AND unique...), and high-quality, but not too blingy...) I am trying not to get crazy about this because I think that is really unattractive (and irrational... I already know we're going to end up together, I should just feel fortunate for that rather than wanting a ring to symbolize it) but I am so EXCITED and want to go shopping! We both have next weekend off - pray for rain, if it's crummy outside it's easier to justify an indoor activity, like ring browsing...
Anyway, just wanted to say hi. I've enjoyed lurking for the past few weeks and already learned a lot. I think I'm going to end up with a ring I'm happier with in the long-run because of this site!