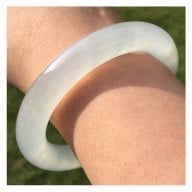 Joined

May 1, 2009
Messages

2,856
@icy_jade

any revelations?

I am so excited about this adventure of yours!
Yes for yellow, not for blue. Since I love the yellow at first sight and not for the blue.
A bit hard to give up the blue as the color is ok, size is great and price is ok. But I think it's too big a purchase for me to have to be convinced to love it.
Ok I asked Wriston to continue looking...
Yellow at local lab for second testing. Fade and unheated etc. GIT is government and university linked and quite reliable according to my jeweller but no questions asked when I asked to send in for testing locally.