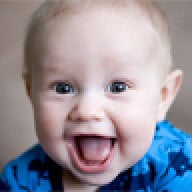 Joined

Jun 28, 2006
Messages

3,960
FI and I really want to get a pet, but are limited to what we can have since we live in a townhouse. We both like cats and dogs and are allowed to have either (dogs have to be less than 30 or 50 lbs, can''t remember which), but FI really really wants a dog. He''s been saying forever that he wants a husky which is bigger than what we''re allowed to have (and in my opinion it would be unfair to keep a husky in a townhouse w/o a fenced in backyard) whereas I like smaller dogs. We''d been joking forever about getting a "mini husky" which we were sure didn''t exist...

...until I searched for it online today and actually found something! It''s called the Alaskan Klee Klai and they''re so cute! They come in 3 sizes: toy, miniature and standard. FI said toy is too small and I think the standard is just a touch too big, so we''ve agreed that if/when we get one it''ll be the miniature which are 13-15 inches long and 10-15 lbs.

The closest breeder is about an hour and a half away and I''ve sent her an email asking when she''ll have puppies available and what the approximate cost is. I''m kind of worried that they''ll be very expensive since they''re considered a rare breed and haven''t been around very long. I can''t wait to hear back though!