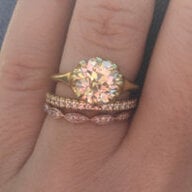 Joined

Mar 20, 2003
Messages

3,376
to catch a student lying to me!
Sometimes students tell me that I marked a question wrong that was right on their quiz. Sure, I can be scatterbrained, and in honors I make several version of tests and quizzes and therefore several answer keys and can tend to get more sloppy.
Well, this year I''ve had two students tell me more than once that I marked theirs wrong when it was right . . . and every time there was an erasure mark and a new answer written. I put the X right over the answer, but it''s still hard to tell which came first . . . the x, or the erasure.
So today this girl tells me this for the third time, and I skeptically take her paper. By staring at it really hard you could tell that the pencil mark of the "correct" answer was over the pen, but it would be hard to convince somebody without eagle eyes. Then I get out my
idealscope
, remove the paper, and Voila! . . . clear as day, pencil over pen.
Thanks
idealscope
!