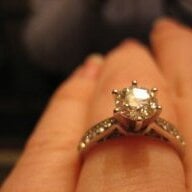 Joined

May 19, 2007
Messages

211
We have looked at 4 places and FI and I both agree about which one we like best. The wedding coordinator is incredible, and I just know that having a coordinator that is so on the ball will put us all at ease and make everything more enjoyable for us while we plan. My only problem with the room is that I don''t like the chairs paired with the carpet... I know it''s silly, but it''s just too much pattern. I can get chair covers for around $6 each but it would end up being a significant amount of money... everyone is telling me I am being ridiculous and that they aren''t bad.
I am so nervous to take the next step and ask to sign the contract, but I know I have to before we lose the date. I think it''s just commiting to spending the money is a difficult thing for me to do. I also contacted the church and should be receiving a call back from the Pastor on Thursday or maybe Friday. We want to get married in my church but my family isn''t crazy about the new Pastor there, so I would like to see about having a different Pastor (who is retired but has a relationship with my family) do the service in my church. Not sure how the new Pastor will feel about that, and it''s going to be uncomfortable to ask. Maybe I should just go with the new Pastor and get over it?
I also asked my best friend to be my maid of honor and she is
very
excited about this new role

And another friend has said she will be a bridesmaid. I will be asking 2 more of my friends to be bridesmaids, but I want wait so that I can do it in person.
After the booking the reception venue and church, I don''t really know what to do next. How soon should I begin looking at wedding dresses/bridesmaid dresses? I don''t want to do it too early, but I also don''t want to wait too long. I am *hoping* to finalize everything for 10.10.2010.