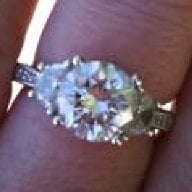 Joined

Jun 18, 2010
Messages

5,765
Ugh. So a really good friend of mine may not be going to my wedding. I think friend is an understatement, she's more like a sister or a cousin. Our families were friends before we were born. We are the same age and have grown up together. Her family is my second family. We lived together for about three years after college. I was in her wedding. I've spent Christmas, Easter, graduations, etc. with her and her family. You get the idea. I also know her husband pretty well, since it randomly turned out that his mom and my mom used to be neighbors growing up.

Well. When I got engaged she was the first person I called. I told her we were planning on a destination/cruise wedding and she was really excited. Said they would be there for sure. Some time passed and I asked her if she was going to book. She said she wasn't sure if she could go because she and her husband had just booked a three week vacation in Europe for the summer and it would eat up their vacation time (money is absolutely not an issue for these two). But she assured me they would still try to figure something out. Well, I just emailed her asking about her trip and she said they ended up canceling it at the last minute because of her husband's job (he works for the family company and they were right in the middle of buying another company or something like that). I told her how sorry I was that her trip was canceled...I mean really, that would suck to have three weeks in Europe ripped out from you a week before you were to go. But I told her I hoped this would mean she would now have the time to attend my wedding (and hopefully the cruise). I also mentioned in this email that I found a dress, and sent her a picture. She quickly replied about the dress with no mention of the wedding. We emailed back and forth a few times and she never mentioned it. I finally sent an email telling her that it would mean the world to me if she were there, and that I never imagined getting married without her being there. Annnnnnd no response.

I know the risk you take with a destination wedding is that some people can't go. Usually it comes down to time and money. Well, I know money isn't a problem, and it seems the time part is no longer an issue either. If it were reversed, I would have emailed her immediately saying "the bad news is my trip got canceled, but the good news is I can now go to your wedding." My gut feeling is she won't come and it really REALLY bothers me. Ugh.

Not sure what I'm looking for here, I just needed to vent. The end.