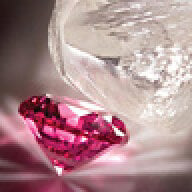 Joined

Oct 17, 2008
Messages

1,069
Hi all,
Well it seems that my fiance is finally ready to book a date. We are hoping to this week arrange an appointment with our venue and super intendant registrar to provisionally book a date for August this year.
I am quite calm about that. We will be having a fairly low key do, we like to call it a "credit crunch wedding" as we will be cutting back on a lot of traditions and going for a civil ceremony then a "party" rather than a formal reception.
As some of you might remember I posted here a few weeks back asking for help to find a plus size, non traditional wedding dress.
I still want to go with something in either red or black (or a combination of both). I am a UK size 26 for clothing (well on bottom at least) so am finding it hard to locate local salons that stock dresses that meet my requirements.
I need help.
Here is a link to my original thread:
https://www.pricescope.com/community/threads/plus-size-and-non-traditional-dresses.100998/
There are some gorgeous dresses posted in there. My fiance has stated that he would rather I wear a colour than a white dress. I am fine with this, unless I find the most gorgeous white dress!
I just need to find WHERE on earth I can go try these dresses on. Short of ringing around every salon in the area it is hard to find info on salon websites as to whether they stock plus size and coloured dressed.
Another issue wll be money. I only have a budget of about £300 for the dress, that will be very tricky.
Can I even buy a decent dress in that price range?