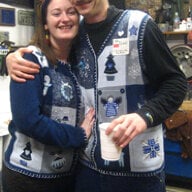 Joined

Jun 27, 2008
Messages

3,899
because i am pretty sure i will throttle E if he tells one more person about the upcoming proposal without telling me.

E went off to a bachelor party this weekend, and said that he was very thankful about how relaxed i am about him going off and spending guy time without giving him grief (he''ll spend the night at a friends house about once a month), and especially knowing what type of entertainment would be provided at the bachelor party, without freaking out. So while we were in line buying food, he told me that the fiancee of the bachelor party gave E the third degree about our future (mental note, send her a thank you note!) and e said he told her all about it. Seeing the look on his face about how excited he was, was very cute. just cute enough for me not to kick him in the shins for making me wait

*sigh* only 5 more months to go, unless he proposes in the BVI (in june).