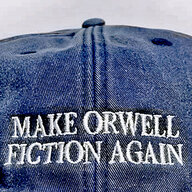 Joined

Apr 30, 2005
Messages

32,298
I just got the results of my 10-needle biopsy (ouch that hurt) and I just found out I have cancer, prostate cancer.
My doctor says if I do nothing I have 5 to 7 years to live and I'll end as a 70-pound skeleton in indescribably-excruciating pain even pumped full of morphine.

My PSA is 3.84 (quite high for my low-50s age) which caused my primary care physician to send me to a urologist.
After a 10-day course of Cipro antibiotic it dropped only a little to 3.44 (a meaningless change since an 0.4 change is well within measurement error) hence the biopsy.
My Gleason score (Google that) is 3+3=6 (on a 2 to 10 scale) for both sides which is higher than a watch and wait score, especially at my relatively young age.
Also that the cancer has spread to both sides of the prostate is way not good.

Next step is to find out if the cancer has already spread outside to other places.
If not and if I opt to implant radiation seeds into the prostate, or for surgery to remove the prostate, there is an 80% chance of full recovery, which is of course a 20% chance I will be maggot food in 5 - 7 years.

My doctored order me to read the book, "Dr. Patrick Walsh's Guide to Surviving Prostate Cancer, Second Edition" by Patrick C. Walsh and Janet Farrar Worthington to get some edjumacation.
Then a doctor appointment Monday to go over options; they told me to bring my wife.
I said, sure I'll see if he can get time off work. (He can and he's been supportive.)

While of course dissapointed, frankly I'm not that freaked out.
I've had a super fantastic blessed life and if I was hit by a truck today I really could not complain.
Lives are much worse and shorter than mine.
We should be glad for whatever ride we get here at this wonderful amusement park.

I'm not looking for sympathy.
This is Hangout where we hangout and talk about what going on in our lives.
This is going on in my life.