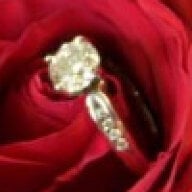 Joined

Apr 28, 2008
Messages

11,676
Is it a bad idea to buy a pave setting without the little holes on the underside of the shank and setting? A jeweler told me melee/pave without the tiny holes on the underside of the setting are impossible to keep clean, because you can't reach the pavillion of the melee. He said over time, dirt gets trapped and because you can't get to the underside of the melee because there are no 'cleaning holes,' the melee diamonds start to look lifeless after a while. So I did some googling, and found this:
http://www.jewelry-secrets.com/Other/Why-Are-There-Holes-In-Rings/Why-Do-Rings-Have-Holes-In-Them.html
"Ring Holes makes it easier to clean your Diamonds and Stones. It gives you better access to the base of your Diamond where dirt and debris would accumulate and build up. Holes allow you to steam your Diamonds easily, or scrub them with a toothbrush to clean them. It keeps your Diamonds and Gems sparkling clean."

So, my question is--is this all true? Do you have a pave setting without the holes on the underside, and do you find it hard to clean the melee? Can any appraisers offer their opinion please? Thanks!!