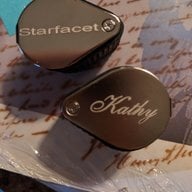 Joined

Nov 25, 2017
Messages

1,841
I've seen countless photos of PSers' and designers' settings being used by vendors on eBay pretending they were their items (and it irks me), but I was shocked when I went to LT and saw my new ring up for sale!! I haven't even had a chance to do a reveal post in SMTB because I'm waiting for DK to finish my OEC brooch-pendant conversion, and I wanted to post both together.
https://loupetroop.com/listings/rin...anite-7-dot-5-mm-1-dot-6-carat-14k-white-halo
I mean, the ink isn't even dry on the invoice, and it's already up for sale? By someone else?!?

In all seriousness, both rings in the photos in this listing were/are my rings: the one that is for sale is my old AV moissanite ring that Jon made with a Stuller setting (no millegrain) that I later sold, and the other one is the new one that David cast for my CBI diamond and hand carved with millegrain. Yes, I got the same setting again. I loved it, so I had David replicate it (they all use the same software). But it's not for sale.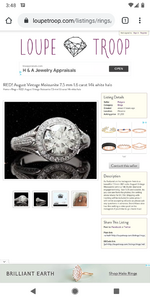 Last edited: