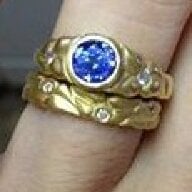 Joined

Jan 23, 2008
Messages

3,544
So,
I am getting an upgrade to one of the
GOG
new chunky cushions! YAY! But with the wedding about a month away...I"m in need a of WB that fits me and is more than the 30.00 we paid at wally world. They said it was a 4 when we paid the 30.00 for it...but when I put it on...well...it didnt come back off. It was stuck. So, its been stuck there since early Nov. and my hubby said I can get my "real" wedding band. I didnt really have much of a budet...but I was hoping to stick around the 500-700.00 range.
So...I go to Jared. Everything they have their is filled with carbon spots and is way overpriced for a dalmation spotted WB. They have a pretty diamond and sapphire band...round diamonds...princess cut sapphires...but the sapphires are a wee bit dark.
Now, knowing that I dont have 1K to drop on a band beacuse of the upgrade I say to myself "dont be to picky"
So i ask the lady if they have any other sapphire bands that are a lighter blue. OMG...the lady says to me, "Oh so you like the lab created sapphires"....I''m like...Ummm no...just a lighter blue please, not to dark. She proceeds to "inform me" that "real/natural" sapphires are always that dark because they are more "pure" and the lab created ones are less pure and so they are lighter in color.


Now...if I follow that logic...that doesnt even make any since. Why would they create a less "pure" lab sapphire? They wouldn''t, they would create a more "pure" meaning they would be better quaity that the almost black junk she was showing me.
Now...I have no clue what she was talking about...she was confusing me with this "pure" "Unpure" thing...so I just said...whatever.


I proceed to another store...a local store, small, family owned. They have JUNK more expensive than jared. They proceed to LIE to me and tell me that they can size the carbon spotted channel set half eternity diamond band to any size...even a 4 without compromising the setting...I ran out of there very quickly.

Finally...since I had the day off...I hit Thomas Markel, a high end local store...I figure since they sell rolex...maybe they have some un-spotted carbon diamond bands. They also sell hearts on fire...so at least I know they''ll have some quality.
Well...I found a band...its pretty with 1/3 ctw in an 18K WG setting...channel set...1600.00!!!!

I about sh** myself!
So...I emailed Lesley and Brian.
Thankfully they have 2 rings that may work for me and can be safely sized to a 4 and are both in my 500.00 budget. one is a .25 ctw diamond band right at my budget and the other one is a .60 ctw of sapphires, lower than my budget.
I''m awaiting pictures now...so keep your fingers crossed for me!

What on earth do I say to someone who tells me that only lab created sapphires are not that super dark blue...i mean...WTF?