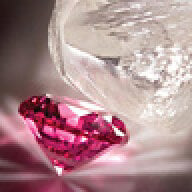 Joined

Oct 17, 2008
Messages

1,069
I am so thrilled. As many of you know, I was very apprehensive about dress shopping and was considering having one made in red/black.
Well, I can proudly present my dress to you. I don''t have pictures of me in it yet but at my first fitting I am sure they will let me take a picture, especially as we have paid in full for it already.
I am a plus size so was worried anything would look horrid. I am usually a dress size 26 on bottom but they got me into one that was a size 20 and it almost fit. The first one I tried on was a gorgeous ivory one with a long chapel length train and gorgeous red beading and detailing. The second was also ivory and red but not as nice on me at all.
This one was the third dress I tried on. I had seen it last night online and had stopped to gasp at how pretty it was but dismissed it as I thought it would look horrid on me. They just brought this one to me by chance while I was in the fitting room and as she was putting it on me I was feeling very hopeful about it. I have no idea what size it is, I didn''t ask and I don''t care. All I know is that it fit me like a glove, except the bust which needs taking in as it was gaping! The picture shows it in white but mine is ivory. Also, those straps are being made into a halter neck for me.
I go for my first proper fitting in June.
Without further ado...MY DRESS: