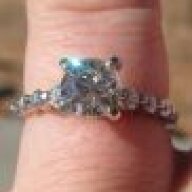 Joined

Nov 20, 2008
Messages

755
So I got my act together and put together a VERY rudimentary canvas... most of it is set already, like my dress (back view is a model, obviously), the girls'' dresses and the location. I think I''m accenting the teal with gold, because of the gold that''s in the theater (curtain edging, molding detail, etc.)The centerpieces will be white dendrobium orchid sprays, and the bouquets will be roses, hydrangeas, and a few orchids... very lush and romantic. Because it''s a palace theater from the 1920 where Frank Sinatra and other legends performed, I''m going for a very classic and elegant feel.
Is there another place you ladies can think of that I could add some more gold in?
And more importantly, what do you think of the overall look so far? Is it cohesive, or can I improve it? I''d love the help... my aesthetic sense is not very well developed!!