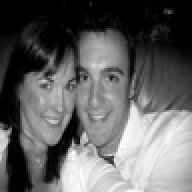 Joined

Aug 25, 2008
Messages

39
i've been dying to get this ring for quite a few months now, and finally this past week my FI proposed! i don't have all the stats with me right now (FI has it) but here's what i remember...
Cushion cut
1.03 carats
I color
SI1
as soon i have the rest i'll post it...for now please enjoy the pictures and story (if you so choose to read on

)
almost nine months ago FI and i went to look at rings for the first time. i fell in love with this gorgeous mark patterson setting. as soon as i tried it on we both new it was the one. we discussed some different options for the stone since i was looking for a square stone, but i left the final decision up to my FI. i still wanted that bit of surprise as to what it would look like. after months of me wondering when we'd get engaged, i got the surprise of my life at work. my FI had just finished a big job interview and we planned on meeting for lunch. since i was already at work, he said he call me when he was closer to the restaurant we were meeting at so i would know when to leave. i kept waiting for his text, and after an hour i was wondering what was taking so long. i kept working when in walks a women from security asking me if we could talk for a couple of minutes. (i work for a company that you have to have an employee id to enter). as soon as i got up to follow her out in walks my FI! he got down on one knee and asked me right there. i was completely shocked! never in a million years did i expect he'd propose there! he got me good and gave me one beautiful ring to wear

ok picture time!