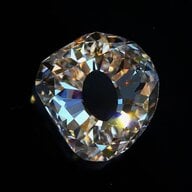 Joined

Oct 21, 2004
Messages

5,096
http://www.diamonds.net/news/NewsItem.aspx?ArticleID=25449
"...
Finlay Negotiating to Avert Chapter 11



By Avi Krawitz Posted: 02/24/09 12:15



RAPAPORT... Finlay Enterprises may file Chapter 11 in the coming days if it is unable to convince its smaller creditors to agree to accept delayed payments. The fine jeweler is reportedly in last-minute negotiations with its two largest creditors, equity firms GECC and Harbinger, to help Finlay avoid bankruptcy, according to the Israel Diamond Institute (IDI) portal. The report explained that GECC and Harbinger, which have provided Finlay with combined loans of $520 million, are encouraging vendors to sign on to a plan that would give Finlay some "breathing room" to survive until at least August 2009.
Finlay has sent a Secured Vendor Acceptance and Agreement to its trade creditors to sign. The jeweler needs to recruit companies that are owed a combined $25 million by Finlay to accept delayed payment. A lawyer for two unnamed companies involved in the case told Rapaport that if the agreement was not reached, he expects Finlay to file chapter 11 this week. Finlay representatives could not be reached by Rapaport by press time.
Steven Silverstein, chief executive officer (CEO) of IDI New York, warned Israeli diamantaires who trade with Finlay that they only have a few more days, "during which time, either many diamantaires will sign the agreement and ''secure'' their invoices with Finlay — or else Finlay fine jewelers may go bankrupt. After this time, any diamantaire who is owed money by Finlay and has not signed the agreement may not receive any payment," he added.
Finlay recently reported that sales in its fourth quarter ending January 31, 2009, fell 20 percent to $306.7 million, while full-year sales rose 3 percent to $862.6 million. The company is scheduled to release its full-year earnings results on March 18, 2009. "