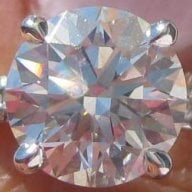 Joined

Aug 17, 2005
Messages

2,681
Now the fun part, answering all the questions.

Snlee,

Hmm, I got this ring from ebay. I know, I know, but I am positive this is 120 % real. It came with the diamond certificate which is stamped into the piece and I have other tiffany rings and the stamping matches perfectly.

I knew I wanted to get a T&Co. wedding set one day and it was and has always been a dream of mine, but with their prices, etc. I knew it made no sense to buy one brand new from them. So, I just checked out ebay for a few months and I saw this. The price was great, the seller had great feedback, it came with the Tiffany diamond certificate and the appraisal stating that in 1999 it cost $3720 for the ring.
Meaning that if I went to Tiffany''s right now, I am sure it would cost me about $4500 for the same ring, if not more.
I did a price check for a similar diamond on pricescope a .55 - I VVS1 to H VS2 and came up with a price of about $1500 or more. The best knockoff Tiffany setting in platinum cost about $1100 to $1250 for this size diamond, so if I had to make this same ring it would cost me somewhere in the range of $2500 to $2750.
It also came with the band, which currently costs $550 on their website, so think a total of $3000 or more for the same set to make it.

I got the ring for much less and it''s the real thing, so I figure if I ever have to sell, I will have an easier time selling an authentic T&Co. ring than one that is similar to it.

It also happened to be my size, which I did not know about and was pleasantly surprised to find out when I tried it on. I was all set to bring it to Tiffany''s to have it sized, but luckily, I don''t even have to do that!

The ring does need a good polishing so I am going to bring it in for polishing sometime next week.
I found someone on BTD selling an authentic T&co. knife edge band so I bought it from her and I have to have that resized, so I will bring all three rings in next week to get done.