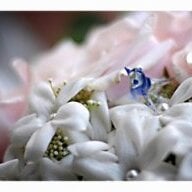 Joined

Oct 12, 2006
Messages

527
Ok.. so I am sitting here at work.. my assistant is at lunch, so I cant finish the one thing I have left to do until she gets back... I am seriously antsy...
The wedding "week" starts Saturday morning for us as we are leaving the island on Sat. morning!!!
This week.. I put my concentration cap on.. and focused on work during work hours and wedding and gym after work hours (that has seriously been an issue with me for the last 8 months. so much so that I was literally months behind at work...) I have finished everything that needs to be finished for the next two weeks!! and it feels sooo good.. I can see my desk for the first time in 8 months.
So.. now is when I get all jittery.. I had a facial at noon today.. this is the first non-work or non-wedding related thing I''ve done in weeks!! and about 30 minutes into it.. I got a RAGING headache.. ughhh.. I know its because I took the time to breath... ughh..
All in all I think I am holding up well.. Lastnight.. I cut and hole-punched 100 tags for our Krispy Kream favors.. and the night before I had my girlfiends over to help finish up the programs (cutting and punching.. ribbons wont happen until Wednesday night!)
All that is left island wise is laundry (boooooo....) and packing... oh and my last two workouts (I am currently on day 4 of my double workout-a-day week... I needed some kind of outlet.. the gym was it!
Hopefully I can get all that done.. so that tomorrow Fi and I can hit happy hour for our very last "single" happy hour!! Should be a blast...
Ok.. so I apologize if you''ve made it this far.. and are like "what is the point of this post?!?!

" There really isnt a point.. it was a whole lot of nothin.. my apologies.. but like I said.. I cant sit still anymore... I had to do something...
Holy Cow ladies... I''m gettin married in 8 days!
Thanks for listening to me blabber.