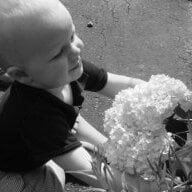 Joined

May 16, 2006
Messages

2,330
So I took the plunge and bought a dress. I am getting married this July, so I figured I had procrastinated enough and needed to get it done. I luv the dress, and i am very excited to wear it--no problems there, but it was over budget and my mom didn''t get to see me try it on, so i think that will bother her a bit (it was a runway sample and not yet in the boutique). That aside, it suits my personality to a tee! I like very unique things and like to marry modern touches with vintage design. This dress did all that for me with the flowy feel, vintage ruffles and dots.
Unfortunately no pics of me in it...but it is the Melissa Sweet Dora. Looks different on me (i have a very small bust, and actually think this a good thing with this dress)
Dora Dress
(also wanted to say, i got the dress at a great price--slightly below trunk cost, and my "loves to spoil me rotten" aunt offered to pay half--so nice of her, but since it was so much, i didn''t tell her the real price (that''s just too much to accept from her-- imo)and I am going to pick up the rest of the cost..hehe)
Yay, can''t believe I can check this off my list!! It was such a hard descision to make!!!!