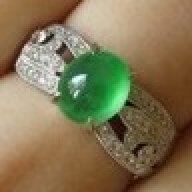 Joined

Dec 23, 2009
Messages

261
I returned one 1.028ct H vs2 princess
ACA
to
whiteflash
just last week. This diamond has NEVER been set since I received it 3 or 4 years ago. Because I never love it too much, i just didn't have the chance to upgrade it until last week when I visit Hongkong gem show and send the stone back to
WF
from there.
I thought it would go all very smoothly until this morning, Vera replied saying:
"Our Production team has noted that the diamond has a pretty sizable chip on the underside of the girdle. This would substantially affect the grading / trade in value of the diamond. It would require the stone to be recut and re-graded in order to restore it as a viable
ACA
diamond. Estimated cost of repair is in a range of $400 to $900.00, multiple shipments cost is $200.00 and then re-certification is $200.00 and based on the carat loss and possible re-grading results there would be a lower value amount for trade in. This process would take about 3-5 weeks between sending it for recut and to the AGS lab for re-certification. There is no guarantee on the value until we have the new AGS grading. "
I am so shocked, because there's just no way the stone could be chipped as it's never set. Vera also showed me one picture of the chipped diamond, there's a black dot next to the chip -- but my diamond has only feather and cloud as inclusion. I even doubt if this is the picture of my stone.
i am so SHOCKED, what should I do?