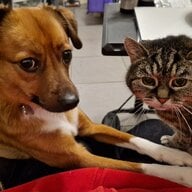 Joined

Jul 7, 2013
Messages

11,843
... an Alto Saxophone, at my age which is mid 50s!!!
I started to learn the clarinet in September 2019, and have started to play Grade 5 pieces (I am not new to music, just new to the clarinet), and have always wanted to play either a trumpet or saxophone in addition to the clarinet.
I was going to get a stand mixer, however, with current Covid-19 situations, I am unlikely to get involved with any large scale cooking events any time soon.
Also, my campervan project is stalled in that I have no idea when the base van will be available. The latest update is that it could be as late as Week 48 this year. With another month of so for the conversion on top, I may not have a van until next year at this rate!!!
So I thought I might as well get the saxophone now while I am still working from home, with no plan to travel for work or for leisure in the next couple of months at least.
I have already apologised to my next door neighbours!
Apparently they could hear improvements in my clarinet playing, which is very encouraging.
It should not be an issue with them as I can only play one instrument at a time!
The pets won't like it, as they always run away at the sight of me picking up the clarinet!!!
Onwards and upwards as they say, and I am not going to let Covid-19 drag me down.
DK