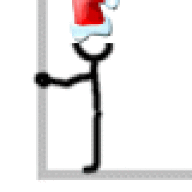 Joined

Dec 29, 2004
Messages

17,193
My husband has forgotten his wedding ring in the morning a couple of times (I see it sitting in our bathroom). It doesn''t faze me in the slightest because I forgot to put on my ering many times when I first got it.
I kissed him goodbye this morning...he was dressed up in a shirt and tie today because he was doing training. 15 minutes later, I hear the front door open, and TGuy calls out, "Honey it''s only me...I forgot my ring!"
"Huh? You came all the way back here for that?"
Yup, he says, and smiles and takes off again, probably late for work now.
At first I thought, aw, how sweet. Then I thought...that''s really weird he would turn around and waste 15 minutes just to put on his wedding ring. Then my mind really kicks off and I think...there must be some chick hitting on him and he needs protection!


I have no idea why I am sharing this story. I just thought it was weird he''d be late to work just to wear the ring when he''s left it at home before. Not a bad weird...a good weird.
I''m weird.