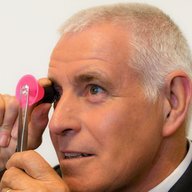 Joined

Aug 15, 2000
Messages

18,327
I copied this from paaul from Antwerp.
I thought it was so good that yo'all needed to read it
"With GIA being the most reputable lab (together with AGS) in the U.S., it is natural for you to put a lot of faith in their grading report. On the other hand, HRD is a rather unknown report in the U.S., and as such, its value is underestimated.
First, I want to look at both reports in detail.
Colour-grading: My experience with both labs teaches me, that in the very high colours (D-E-F), HRD is generally more strict than GIA. In Antwerp, I try to buy specific HRD higher range E-colours, and very often, I get a GIA D-grade for them. The other differences between the two labs are minimal.
Clarity-grading: GIA is generally slightly stricter in clarity-grading than HRD. For borderline-impurities, GIA will give one clarity lower than HRD. The big difference is in their highest grade, which has a different name. HRD works with 'loupe-clean', and will grade an impurity that is less than (I think) 4 micron as loupe-clean, since it cannot be noticed with a 10x-loupe. GIA works with 'internally flawless' and 'flawless'-grades, and this is totally different. Therefore, most HRD-LC-stones get a GIA-VVS1-grade. In other clarities, the difference is minimal.
Proportion-grading. GIA does not give a grade on proportions, whereas HRD gives a highest grade of 'Very Good'. For us, cut-geeks, the range of 'very good' is way too broad, but some information might be better than no information.
Symmetry- and Polish-grading. GIA gives separate gradings here, with the highest possible being 'Excellent', while HRD combines the two into a Finish-grade,with the highest possible being 'Very Good'.
Detailed information. GIA gives you table size, total depth, while HRD gives you table size, crown height and pavillion depth, while you can calculate total depth yourself from the measurements. When giving girdle size, HRD uses another notation than GIA, and because of that the girdle will appear about 1.7% thicker on a HRD-report than on a GIA-report.
These are the differences. Personally, as a professional, I find it easier to make a first selection of goods, if I can work with a HRD-cert, than if I need to work with a GIA-cert.
Now to politics. Working in Antwerp, and having thousands of HRD-reports available here, I do not understand why HRD does not do a better job of promoting its report in the U.S. I fear that politics is the reason behind this.
A few years ago, GIA was apparently preparing to set up a lab in Antwerp. Somehow, this lab has never started, and HRD is now heavily promoting its report in Canada, Dubai, the Far East, but not in the U.S. Could there be some kind of gentleman's agreement between the two labs?
Also, HRD is an organisation, that is run by representatives of the Antwerp diamond trade. Most of these representatives stem from the biggest offices in Antwerp, who often have established business relationships with U.S.-importers. These importers make sure that all their stones get GIA-reports, and as long as they keep up the image of a GIA-report being the only reliable one, they make life very difficult for small Antwerp companies, who try to sell HRD-reports in the U.S.
To sum it up: as far as I am concerned, HRD is not a less reliable lab than GIA, as long as you are aware of some basic differences. In the end, it all comes down to where you are buying the stone. You need to buy it from a person, who can check a report, and who is professional enough to interpret that report, and if this does not suffice, you can still work with a professional appraiser.
Live long,
Paul