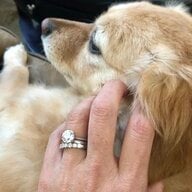 Joined

Mar 13, 2004
Messages

4,740
Hi Everyone, I haven''t posted in a while, but I thought this would be fun. I want ideas for an upgrade, and dh just gave me a 20K budget (we''ve been married 6 years), so it''s probably not the final upgrade.....

So, given the budget, how would you distribute the money, to include setting AND diamond (s)? Here''s what I''m thinking:

1. Shared prong Raphael setting from SP to match my w-band: $2180 (or there abouts)
2. ~$18K left for an H, SI1, AGS 0 RB. around 2ct.


Dh is thinking more along the lines of (because he feels going for color would make me love my ring more, since I''ve been known to be a color nut):

1. Tiffany Replica Knife-edge around $1300
2. ~19K for an E/F VS2 H&A in the 1.7-1.8ct range

But this thread is not about me, I want to hear how YOU would spend 20K on a ring (for fun).