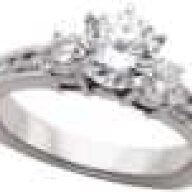 Joined

Feb 19, 2006
Messages

49
I''m not sure if this topic even belongs on rocky talk... if not, let me know and i''ll move it
I have a solitaire diamond ring. It''s been passed down in the family, so it doesnt have a certificate with it.
The problem is that there is so much yellow gold in the setting that the ring (which is at least a G or better in color) looks increidbly yellow!!
So I''m looking to resett the diamond.
My boyfriend keeps asking me how I know I can trust the jeweler I''m thinking about going to; which I thought was a pretty good question!
How have any of you found that you can trust a jeweler with such an expensive item? Is there any way to garauntee that nothing will "happen" to the diamond?
I''ve never done this before, so I have no idea what to even ask the jeweler.
I''m thinking about going to a family owned jewelery store in town - they have two stores in town, both which are pretty big (so they have a GREAT selection), and they are family owned and have been around for a long time.
any advice?
Thanks