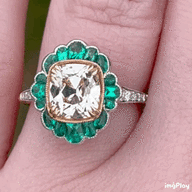 Joined

Jan 29, 2012
Messages

3,850
@elle_71125

and

@PintoBean

I've been reading reviews since I may get one for myself as a christmas gift too. I was wonder how the odor control is since I have the litter box in my bathroom since I live in an apartment (so no basement). This may not fit in my bathroom in which case it'd most likely go in my bedroom so if it's sort of smelly I might stick with my current situation (at least until I acquire a basement).
Mine has always lived in the basement so I can't speak to how it smells in confined spaces but my basement actually smells a LOT better. We used to have two open litter boxes and you could tell I had cats as soon as you opened the basement door (yuck). This one really helps control the odors. It has the bottom compartment that holds all the "stuff" and there's a carbon filter in there that helps with odor. However, when you open that compartment to change the bag....
. That smells intense! Then you close it and it's all gone again.
If you do decide to go for it, I have a couple money saving tips:
- You can buy carbon filters in a sheet form. Then just cut to size
- You don't have to buy the special bags. I read a lot of reviews and bought these office trash bags off amazon. They are cheap and fit perfectly. You just roll down the edges a few times before tucking it into place.
https://www.amazon.com/gp/product/B00S7NN770/ref=ppx_yo_dt_b_search_asin_title?ie=UTF8&psc=1&pldnSite=1
.