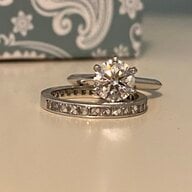 Joined

Apr 11, 2011
Messages

886
It has recently come to my attention that two newly-hired coworkers were given starting salaries approximately 5% higher than my current salary. I was a new hire last year. I did not negotiate my salary (but both of them say they didn't negotiate theirs) as it was and still is more than acceptable. I have the same amount of experience as one and a year more than the other and we all work the same number of hours. I "own" a particular niche and section, which neither of them do. BUT, when they were hired we were in a hiring crunch so I'm sure that could have increased their offers somewhat.

Honestly, finding this out just makes me feel kind of crummy. Additionally, there was some discussion at a staff meeting about 8 months ago that we were changing some things in hopes of increasing starting salaries to attract new hires. The question was raised by someone else as to whether new hires would start higher than current employees and the answer was a very clear, "No." So, obviously that got thrown out the window.

After finding this out, I want to ask for a raise. I'm not entirely sure how to go about it, though. Obviously, I'd start by sitting down with my boss and going through what I have done to add value (which is not insignificant) and then ask. Do I bring up that I know this information as well, or do I hold on to that for further negotiation if he doesn't give me a raise? Any advice would be appreciated. I have actually never asked for a raise in almost 20 years in the workforce and I want to go about this the right way.