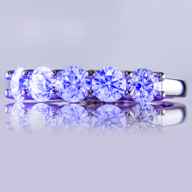 Joined

Sep 16, 2015
Messages

78
I'm trying to find certain diamond ring designs, but I haven't been able to get them "just right". I'm at the point where I am considering having a custom diamond wedding band made. I don't know which designers are right for the kind of designs I am considering and that people have good experiences with - suggestions? Should I go with a custom designer? Are there places that I am overlooking? I don't know if going with an online custom designer is feasible because we want to see how the design actually looks when paired with the engagement ring before purchasing it.
I have seen Leon Mege mentioned on PS as a great custom designer, but his work seems focused on vintage-style rings (typically having engraving and milgrain). And the designs I am asking for are not vintage at all -- they are pretty straightforward/typical but with a small change. Who does that kind of custom design work?
One ring design I am considering is a classic/timeless design with just a small tweak: a plain 7-stone ring (sometimes called an anniversary band) but the tweak is to have the stones raised higher than designs that I have been able to find online or B&M. The idea is to match the height of the side diamonds in the engagement ring (another classic design: center round with a tapered baguette on each side). The shoulder baguettes of the engagement ring are raised pretty high with a gallery, so a low-profile wedding band looks odd and is lost in the shadows.
Another design I am considering is classic as well: alternating round-baguette-round-baguette, with the tweak is that it goes halfway around the ring, of a certain size, and uses certain kinds of prongs. I have not been able to find this design in stores to try on.
Examples of what I am looking to tweak: