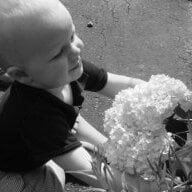 Joined

May 16, 2006
Messages

2,330
Anyone had to deal with this or have any suggestions they can pass my way...

My wedding and reception will be at a lake resort a few hours from my home town--therefore everyone will be coming from somewhere. Last night FI and I were discussing the kids issue. We are not inviting young kids and we don''t have any in the wedding party, but at least 4 of our guests that are coming from out of town (i.e. taking flights or long drives to get here) have infants that they can''t leave at home and will be staying with at the resort. These babies are all close to a year, and 2 are still breastfeeding. Is there anything I should/could do to help them out? Do I write "3 seats" have been reserved for you on the invitation, when really there will only be two and....? (i dunno, a highchair??) or do I just call them and see what they need?

For parents: would you bring an infant to a dinner/reception or split your time with your spouse so one can enjoy the festivities and one can look after the child? Is there anything you would expect the bride and groom to provide for you? I want to be as accommodating as possible...

Thanks everyone!