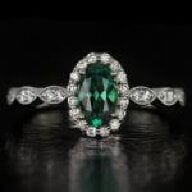 Joined

Apr 13, 2015
Messages

269
I posted a while back because I had gotten pearls for my bridesmaids, and I was concerned they were too small. You all assured me they were fine, and I couldn't be more grateful! But now, I'm back with the same concern.

This time for my flower girl.
I wanted to get our flower girl pearls as well - kid of a mini version of the "grown up" gifts. She's about 4 years old, and I ordered a lavender pearl necklace and bracelet in 4-5mm pearls. I just got them, and they look TINY!!! Part of me thinks they were mis-advertised in size and part of me thinks I just have no idea what 4-5mm pearls are supposed to look like. What would be appropriate sized pearls for a child? Should I be looking at 5-6mm? I'm seriously considering buying a new set, but I'm not sure if what I have is actually appropriate and I'm just inexperienced or if I'm right and what I have is way too small.
The lavender pearls are also so much more off-round than I was expecting, which is also making me wonder if I should buy something new. I mean, I don't need perfectly round, top-notch pearls for a 4-year old, but I don't want to seem cheap or ungrateful either. If I'm going to buy something new, I need to do it quick though...the wedding is 10 days away!
Below are some pictures. One of the lavender flower girl's pearls alone, and two with the lavender pearls next to the bridesmaids' pearls. The bridesmaids' pearls were advertised to be 6.8-8mm pearls, but I suspect their more like 6.5mm.
I'm not sure what to do. Between the size and off-roundness, should I buy something new? Or am I over-reacting?
Pics: