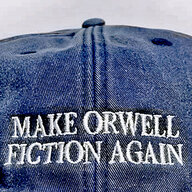 Joined

Apr 30, 2005
Messages

29,108
Round 2 of Trump vs. Clinton.

I'm very curious what she'll say about his revolting video.
She may take the high road and say nothing.
Actually, that may work better for her.

She doesn't really need to say anything.
He's already shot himself in the foot in his mouth.

Also, I'm curious how she'll respond if Trump brings up Bill's cheating and alleged potty mouth.

While initially seeming simple (equality is all that matters) I see both of these topics as complex and nuanced minefields.
America is finally shaking deeply-rooted ideas about men and women and they are NOT equal.
Happily, times are changing.

But Clinton needs to get elected by an America that's not there yet.