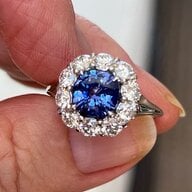 Joined

Aug 18, 2013
Messages

8,662
I've just done a little de-stash of a few smaller things, so I do feel a little better now, but (and this was a baaaad idea...) while I was at it, I counted how much unset melee, small diamonds, settings with pave or side stone diamonds but missing center stones, or diamonds in temp setting I have. It came to <politecough>over10ctw<politecough>.

I can't be the only person with this sort of lunacy going on - surely?

So - how about you? How many unfinished projects, unset stones, loose bits and pieces do you have lying around?