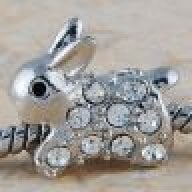 Joined

Jan 15, 2010
Messages

848
I'm only fluent in one language, though I studied French and Spanish in high school. I feel like French was touted as THE language to learn in the 80s and early 90s, then it was Spanish. I don't know what the "it" language is now... Mandarin? I see a lot of job descriptions asking for it. Arabic seemed very in demand 5-10 years ago as well. I love language learning, but the ones that intrigue me most now are Mandarin and Italian. I am sadly very, very far from being fluent in any foreign language.

Sorry, I'm rambling! I'd love to hear from others on the topic, especially since we seem to have a number of people living abroad. I feel like we don't implement foreign language education very well in the states. Many international students I met in college were fluent in English, their native language, and often 1 or 2 languages on top of that!

Edit to add: Do you have any learning resources you'd recommend over others? And how do you keep in practice?