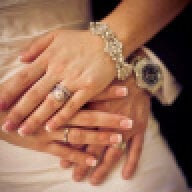 Joined

Sep 5, 2007
Messages

2,201
So I bought a boatload of these at easter:
http://www.typetive.com/candyblog/item/lindt_lindor_truffle_eggs/
My stepbrother is getting married August 14th and they are using little birds for their invites. My friend and I are crafting very cute favors that involve using egg shaped truffles. I''ve read on some pages about not refridgerating them (they sweat!) and being careful of the old chocolate white film situation. I have a ''control'' group of chocolates, a couple of boxes, to test out when the time comes to put them in the favors in case I poison the guests or something.
I did read somewhere though that truffles don''t last long and are meant to be eaten right away. Summers get hot here so I''m not sure what the best way to store them is. Work remains relatvely cool but that doesn''t seem ''ideal'' to store them in my office.
Help!