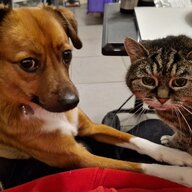 Joined

Jul 7, 2013
Messages

8,117
I posted on my FB wall that I planned to have pasta today, decided yesterday, without realising today is World Pasta Day; to be responded with no pasta on Sundays as it is a day for <<<insert a dish, like roast dinner/pie/whater>>>.
Yesterday when I was in the pub and mentioned what I was planning to have yesterday (a steak dinner) and what I am planning to have today (pasta) with a couple of friends, one of them who is my ex-gentleman friend, commented that I am very predictable when it comes to meal plan, in that Friday is fish, Saturday is steak and Sunday is roast dinner etc., which means having pasta on Sunday is a deviation from the norm, etc. etc...
And I thought, that's not entirely true, as I don't always stick to the same type of meals on any given day of the week.
How about you, do you have a meal plan you prefer for each day of the week?
DK