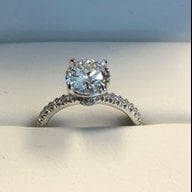 Joined

Jan 19, 2018
Messages

140
Hello everyone, to make a long story short, I have the ring and location. It is during a stroll around a beautiful garden that we've been wanting to visit.
Anyways, I just realize that I do not know exactly how to propose. More specifically I am not sure if I pull the ring out of the box, or do I present the box to her with the ring in the box (opened) while I am on my knee?
The way I see it is the following steps and I would like to know if there is any unecessary steps listed below
1) Little sweet talk and a reminder on how much I love her and would like to marry her
2) Grab the Box from my pocket
3) Get on one knee
4) Present Box to her, and open
5) Pull ring out and ask her to marry me
6) And then place ring on her finger once she says yes
Is this correct?