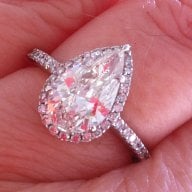 Joined

May 23, 2010
Messages

6,731
I thought I'd start a thread on ways to relax. Since it seems we all need it. Please post your suggestions/methods.


Coloring books, therapy animals, hobbies, whatever you do, all is welcome here.
I am spending some time on Instagram lately, looking at pretty pictures and cute animal videos. I suggest love.chipmunk for adorable chipmunk videos, for example. A lot of our PS regulars/vendors post lovely bling shots, including
ID Jewelry
and Leibish. It's a nice way to relax.
I have recently taken up quilting. I love to play with colors and fabrics, and spend hours on producing cute things for the family.
I also like gardening. I enjoy the required long-term optimism of growing seeds and plants.
Points for pictures!!


Points are meaningless, but at this time, I'm ahead by 2!


What do you do to relax?