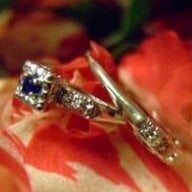 Joined

Aug 22, 2009
Messages

6,006
...when you are hundreds of miles away and you've just found out the mother (of 5) is going to lose her battle with breast cancer?

I am at a complete and total loss. DH's eldest cousin has been battling breast cancer for as long as I've known DH. Her latest round of chemo was just after Thanksgiving, and at our wedding two months ago she seemed to be doing quite well, at least on the surface.

We just found out today that she will not, in fact, be one of the survivors. DH and I live half way across the country from the family and are at a complete loss for what to do to support and help them through this time. There are many family members in the area (including her parents and grandmother, as well as her four siblings and their families) that will be able to assist them, so at least they are not alone. But we would like to help in some way so that whatever time she has left can be spent focusing on her husband and children.

We've thought of sending grocery gift cards so that at least some of the financial burden is lifted, and we are also planning on sending Christmas presents in December. I have asked a few of DH's cousins to let me know if they think of anything, but any other suggestions would be welcome.

Oh, and if I could request some dust to be sent their way...for...peace, I guess? And for healing of spirits? I would really appreciate it.