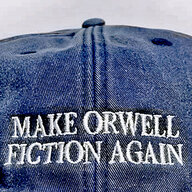 Joined

Apr 30, 2005
Messages

32,303
http://www.msnbc.msn.com/id/42711421/ns/health-kids_and_parenting/
A senior at a south-central Washington high school faked her pregnancy for the past six months as a social experiment for her senior project.
Gaby Rodriguez revealed she was not pregnant Wednesday by taking off the belly bundle in front of a stunned student assembly at Toppenish High School in Yakima, Wash., that ended with a standing ovation.
For six-and-a-half months, Gaby wore a homemade prosthetic "bulge," made out of wire mesh and cotton quilt batting. The Yakima Herald-Republic reported only a handful of people knew Gaby was faking, including her mother, boyfriend and the principal. They helped keep the secret from some of her own siblings and her boyfriend's family and students and teachers.
Before the revelation, she asked several students and teachers to read quotes people said about her during the course of her experiment.
"Her attitude is changing, and it might be because of the baby or she was always this annoying and I never realized it," her best friend, Saida Cortes, read.
It grew quiet in the gym as more and more quotes were read aloud, Yakima Herald-Republic reported. Then Rodriguez dropped her bomb: "I'm fighting against those stereotypes and rumors because the reality is I'm not pregnant."
She had been nervous about how the crowd might react. After all, she had been lying to them since October.
The surprise presentation was part of her report about the perceptions of a pregnant student. The 17-year-old A-student will share her findings in May before she graduates.
Gaby's story caught the attention of media outlets across the country.
Read more: Student's story attracts attention of national media
"It's gone big; it's been quite a day," school principal Trevor Greene told The Herald-Republic. "We didn't anticipate that by the end of the day we'd be getting calls from, like, the TODAY show."
At least one college recruiter wanted to speak with Gaby, and a local business owner was so impressed with her that she wanted to offer Gaby a college scholarship, The Herald reported.
"In essence, she gave up her senior year," said Greene. "She sacrificed her senior year to find out what it would be like to be a potential teen mom."
"I admire her courage. I admire her preparation. I give her mother a lot of credit for backing her up on this," he said.
At first Rodriguez's mother wasn't sure what to make of the idea, either.
"I thought she was crazy," says 52-year-old Juana Rodriguez, adding it was difficult to lie to family members.
But she felt she needed to support her daughter, who enlisted two mentors from Yakima Valley Memorial Hospital's Childbirth Education Program to help her with the project.
Rodriguez began wearing her homemade, basketball-sized, prosthetic belly to school after spring break. Before that, she wore baggy sweaters and sweat shirts to conceal her faux pregnancy.
Her supposed due date was July 27, not quite two months after graduation.
Rodriguez and her boyfriend, 20-year-old Jorge Orozco, met at the homecoming game when she was a freshman and he was a senior. They started dating just over three years ago.
When Rodriguez told him her plan, "I thought she was nuts," the 2009 Toppenish High School graduate said. "I thought I was going to end up getting into problems with her brothers. I didn't really want to get into problems with anybody."
"I was doing it for her," he says, adding, "My parents thought it was going to be a boy."
Rodriguez — who has a grade-point average of 3.8 — came up with the idea during her sophomore year Advanced Placement biology class with Shawn Myers. She's in his anatomy class this year.
"You saw the side comments and the looks at her stomach," says Myers, who says he wasn't disappointed — "just concerned" — when she told him she was pregnant.
He says he wondered: "How are we going to take all of the potential that's in this girl and make sure it manifests itself and not let this define who she is and let it be a roadblock to what she wants to accomplish?"
It's a question Hispanic teens are more likely to face than white teens, Rodriguez found in her research. Black and Hispanic teens continue to have higher pregnancy rates than white teens.
And most teens at Toppenish High School — about 85 percent — are Hispanic, Yakima Herald-Republic reported.
Rodriguez plans to attend Columbia Basin College to study social work or sociology in the fall. And, she said, "I'm not planning to have a child until after I graduate."