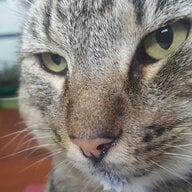 Joined

Apr 30, 2019
Messages

10,677
I have some because I'm still usually expected to attend some events when no pandemic for my husband. But for me my special jewellery is usually my triple cultured pearl strand from my wedding day and my engagement ring since it's a mined diamond in a mined diamond halo. Super sparkly lol. I wear them for nice dates as well. I consider that a special occasion too. It doesn't all need to be saved for weddings, funerals, and formal parties

If I'm not wearing my pearls though I have a huge green resin pendant in plated gold that I love too. Poor thing needs a redip but I love it so much. It's so beautiful. I had to have it even though I pretty much turn my nose up at plated stuff because of my penchant for getting a rash from non platinum. But I fell in love and wear it on date nights or events as well on my grandmother's gold necklace.

So yeah I'm for some nicer jewellery for special stuff!
We have to see this pendent ...
Can you post it over in the fabulous fashion jewlery forum for us please