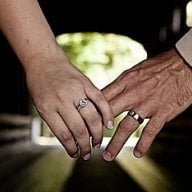 Joined

Jun 19, 2008
Messages

373
I''m just a little overwhelmed right now. I am not a person who enjoys a lot of change. I''ve lived in the same state my entire life (besides a random summer in Colorado) and really enjoy living near lots of my friends and family.
I was layed off along with half my company at the beginning of January. My fiance got a wonderful job (which I am so excited and proud of him for) that requires us to move to Central Pennsylvania for the next 15 months and then Kentucky for a year after that. I''m so excited to be with him and know its not like I''m moving by myself, but I feel so overwhelmed. I''ve had a steady job since I graduated college and have always lived with lots of friends. Now I''m unemployed and moving to a state where we know no one. All of his coworkers are significantly older than us.
Basically, how do you deal with change? Do you try and focus on certain things? I''m not complaing, I''m a little excited to move and really excited to live with my fiance for the first time (we get married in August)- I''m just overwhelmed with how fast things have changed!