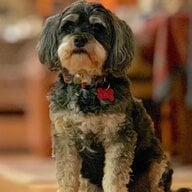 Joined

Jul 20, 2012
Messages

1,907
Kristi, have been thinking of Finn today. Hope he made it through with flying colors. We had surgery later in life for both Pepsi & King, (both within this last year) & both required 24-36 hours to get back to themselves (i.e. the after effects of anesthesia) after surgery. These older pups just don't process it as well as the younger ones.
Was it simply a teeth cleaning or more involved oral surgery for dear Finn?
We spoke of getting another dog for the 1st time last night at dinner. I think we decided to wait. Its nice having Jack to ourselves, but I am so worried he is so lost right now. All he's ever known is 2 other dogs around, this is the first time he's not had someone to pal around with. As a result, I take him everywhere. & walk him far more than usual, which isn't such a bad thing either
His personality is coming out more, thats for sure, & we've learned he is quite the loner. Altho trying to figure out if this is his normal MO or his stage of grieving is a question.
I hope Finn is resting easily this evening!