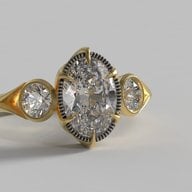 Joined

Oct 28, 2012
Messages

1,070
The designer of this ring said she heated the entire ring to add cracks in the stone for a special effect. The fact that she did this to a Paraiba sorta makes me shudder. However, for a 4.5 ct tourmaline of this color, I am still intrigued to see this stone in person and consider keeping it especially since it is under 200$. I might even consider taking out the stone and resetting in a brushed yellow gold setting to give it a more raw feel. There is a 7 day return policy....
My main concern is that if the stone is taken out of the bezel, it may fall apart on me or something...do you think that could/would happen? Do the cracks on the stone seem really bad such that it can't be re-set into something else?
The pics are from the designer...
Thanks!!