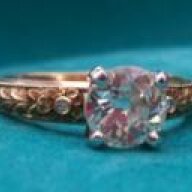 Joined

Mar 31, 2010
Messages

889
Has anyone had "hostesses" for your wedding? Or female ushers of some sort? I could use some guidance.

I have a large family and while I am very close to my cousins, I cannot possibly include them all as bridesmaids/groomsmen. I have one particular cousin whom I really grew up with, she will be my matron of honor. This isn't an issue for my family, as she is the only cousin close to my age, and we really grew up like sisters. I also have a cluster of younger cousins, all around the same age (14-16), who are very special to me. But they are all very close to each other, and I would feel bad involving any one of them without involving all of them. So I chose not to ask any of them to be bridesmaids, and instead would like to ask all of them to be hostesses/female ushers/whatever you would like to call that (we haven't decided yet!). I would like to keep the role relatively informal, just having them help seat people, pass out programs, man the guest book at the reception, take a few cute photos and then warm up the dance floor. I want them to feel special, but not actually have to do a lot of work! The plan was to have them wear black dresses of their own choosing, and I would get them blue sashes to match the bridesmaids' gowns. Pretty low key.

Problems that have come up thus far:

1) my mom is diametrically opposed to "young ladies in black dresses." I just thought black dresses were easy. Everyone has one. Even if they decide to buy new ones, they'll be able to wear them again and again. Everyone looks good in black. And black makes them look like ushers. I don't want them to look like the bridesmaids. But this idea is apparently horribly offensive to my mother.
2) In this cluster of cousins are 5 girls and 1 boy. Poor Stephen. We definitely want to ask him to be involved as well, and just wear a suit and we'll give him a tie. Stephen's life story is being surrounded by a gaggle of girls, and he is often embarrassed. I want to make him feel comfortable. Also, do we call him an usher? A host? Or what?
3) Some major drama with one of the girls, whose parents are divorced. Too long to get into here, but suffice it to say, I am not sure if I should have her as a hostess, as there will be nothing but drama. But I'd hate for her to feel left out if I ask all the other girls and not her. I'm feeling majorly guilty already and I haven't even done anything yet.
4) My mom also has a problem with the term "hostess." She thinks only the people paying for the wedding should be called "host and hostess," that no one will understand what the term means, that the girls (and poor Stephen) will be confused and not know whether they are bridesmaids or not, etc. Whatever. I'm not married to the term, I just haven't found a better one yet. FI thinks we should just call them all "ushers." I think "host and hostesses." Mom thinks "usher and junior assistants" or something like that. I'd be okay with "usher and hostesses." I don't know. Any ideas?

What is hilarious is that my mom keeps insisting that it's my wedding, all the decisions are up to me, and she won't ask me for anything. But then I tell her my ideas and she turns her nose up at all of them. Hilarious. Classic wedding planning stuff.

Bridal party = mega stress. And I haven't even asked them yet.