Hi everyone!
I never post, but I love to read around PS and gawk at beautiful things!
I am hoping to get your thoughts on a potential repair/change to my engagement ring. My fiancé bought it in a store while we were on vacation in Europe (because he decided he needed to propose at THAT moment). Very romantic, but as you can imagine, I might have done something different with the same budget. Long story short, it's my ring now, and the diamond is not centered well in its halo. I brought this up with the local jeweler who resized it (yes, it was also the wrong size

) and he said that he had adjusted it some when I picked it up post resize.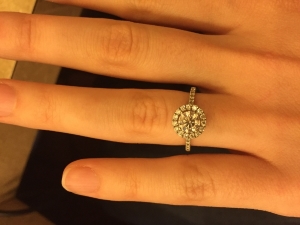 I wasn't particularly thrilled with this jeweler's work, so I didn't follow up. I went to another local jeweler who told me he would not adjust the diamond/prongs because this could affect the pave and he didn't want to be liable for a stone falling out... And finally, when I got an appraisal from a local (recommended on PS) he said that it could be adjusted but might need to be re tipped.
For me, this is not a dream setting (it is 14k), and I don't want to dump a bunch of money into it. The off-center thing does bother me. Has anyone experienced this or can a pro put in their two cents?
Thank you!!!!!